Middleburg White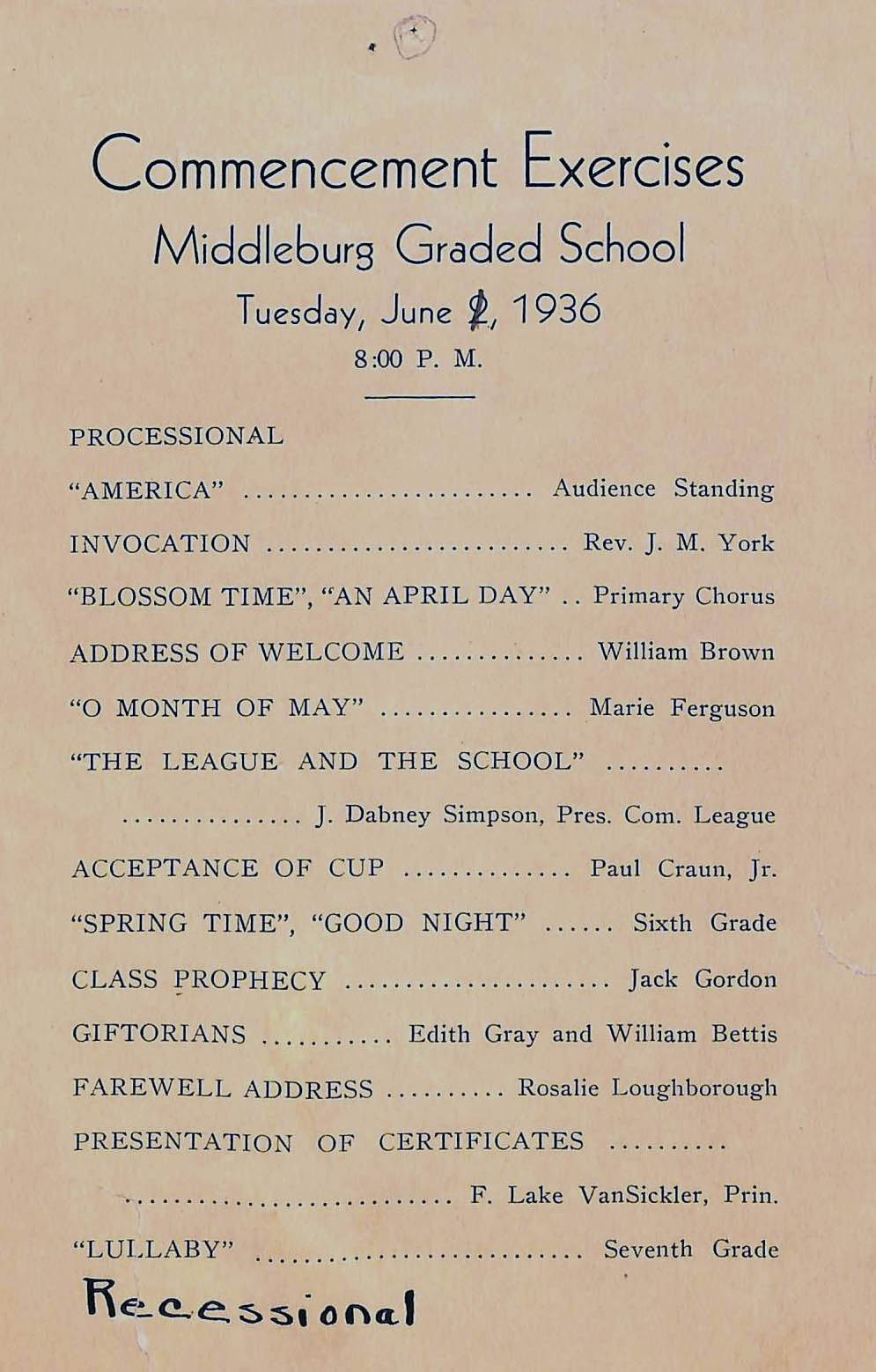 Opening and Closing
Opened 1911 (see history for closings by grade).
Physical and Map Location
Petitions
Transportation
History
For the grades 8-11 program:
No record for 1919/20
1923/24: may have combined with grade.
1934/35: High School grades (not 8th) closed and hauled to Aldie.
1954/55: 8th grade consolidated in Loudoun County High School.
For the grades 1-7 program:
1919/20 no record
Last year appears to have been 1964/65,.
Notes: From Annual High School Reports found in 13.2 Reports High School 1918-1928.
1920/21: $250 appropriated by patrons for laboratory to be spent this year. Alice Janney, Principal.
1921/22: Since this school was only a three year High School last year, there was no class of 1921, Clark Copp, Principal
Instructors
Thanks to research by Pat Bell Duncan of the Loudoun County Virginia Genealogy site on Face, we know of some of these people:
Mrs. Marie Emma Ferguson Waff , 75, of 122 Emperors Landing Road, died Friday, April 19, 1996, in the Albemarle Hospital. A native of Middleburg, Va., Mrs. Waff was a daughter of the late Leslie Daniel and Ursla Patricia Jackson Ferguson. She was a member of the Open Door Baptist Church. She is survived by four daughters, Janet Hargrove and her husband, Robert of Edenton, Emma Hughes and Carolyn Clark, both of Burgaw, N.C. and Crstal Bethune of Winston-Salem, N.C.; and four sons, John Edward Waff IV of Edenton, Danny Waff of Chester, Va., Perry Waff of Edenton and Daniel Ryan of Yorktown, N.J.; one sister, Louise White of Winchester, VA; 13 grandchildren; and seven great-grandchildren. She was preceded in death by two grandsons, Allen Waff and Darwin Pierce.
J. Dabney Simpson, b. 2 Jun 1904, d. 20 Sep 2000, buried in Union Cemetery, Leesburg.
Paul Craun, b. 7 Dec 1925 s/o Daniel and Ida Craun, d. 6 Feb 1958 in Democratic Republic of Congo, buried in Mount Hebron Cemetery, Winchester.
Edith Mountcastle Gray (Mrs. Lucking,) b. 19 Jan 1922, d/o Henry D. and Edith King Mountcastle Gray, d. 14 Apr 1993 in San Marcos, CA. Parents buried in Rock Creek Cemetery, Washington, DC.
William Edward Bettis, b. 14 Jul 1921, s/o George S. and Jennie Virginia Saunders Bettis, d. 14 Apr 2002 in Loudoun, buried Middleburg Memorial Cemetery, Middleburg.
Rosalie Loughborough, b. 11 Mar 1922, d/o Carl R. and Lucy J. Smith Loughborough, m. Roy C. Patterson, d. 13 Feb 1994, buried in Quantico National Cemetery, Quantico.
Francis Lake Van Sickler, b. 24 Jun 1911, d. 16 Feb 1989, buried in Ebenezer Baptist Church Cemetery, Bluemont.
Sandy Adams of the same group also added: F. Lake VanSickler, Prin. My principal at Upperville Elementary in 1961-65ish was a Mr. VanSickler. Guessing either same guy or his son. Ruth Furr added "he was also a Principal at the old stone Round Hill Elementary School in the early 1950's." to which Sandy added "Am sure it was him. Used to make us eat black olives. LOL! Funny the things kids remember."
1921-1936: Preliminary and other High School files, and some personal files.

1928/34: Gaylord Gibson was Principal. Studied at State Teacher's College, Harrisonburg, University of Virginia.
1934/35: Marianna Rainey was Principal. High School enrollment was 32, of which 4 graduated that year.
1949/50: Elizabeth Myers was Principal.
Paper Term Reports are in Edwin Washington Archives. Middleburg Elementary White, Mercer District 1924/25-1968/69 in 6.3.2 Box
Insurance and Physical Description
Built in 1911 as a brick, 6 room school, costing $21,000.
Library Collection and Connection to Confederacy
Annual Library Reports from in 6.3.4 Middleburg and Other White Schools

1931/32: 325 volumes in collection. Material or money supplied by Junior League, gifts and School Board. Librarian was not trained.
1932/33: 465 volumes in collection. 261 volumes were contributed by Daughters of the Confederacy and 12 by the Junior League. Librarian was trained in simple filing system. Based on a reading of the records of the Middleburg Chapter of the Daughters, it appears they wanted to sell their Library and probably donated the collection of a significant portion of it to the Middleburg White Public School. Relevant records are in the Balch Library, Leesburg, Virginia. See Box UDC Middleburg Chapter, 1861-1951, Boxes 1 and 2. In particular study a book of minutes called "A Record of Meetings of the Middleburg Chapter of the United Daughters of the Confederacy, beginning 1947." and another volume of notes simply called Middleburg chapter of the United Daughters of the Confederacy, paying attention to the minuities for July 8, 1930, July 3rd, 1932 and October 27, 1932.
1934/35: 647 volumes in collection. Money was secure from Junior Class. No Librarian on staff. Principal indicated that some of the high school teachers were putting their own books into the library, then took them at the beginning of the term. Books of fiction were needed, suitable for pupils of the elementary grades.