Nokes Colored
Reedited 8/19/2023, 8/27/23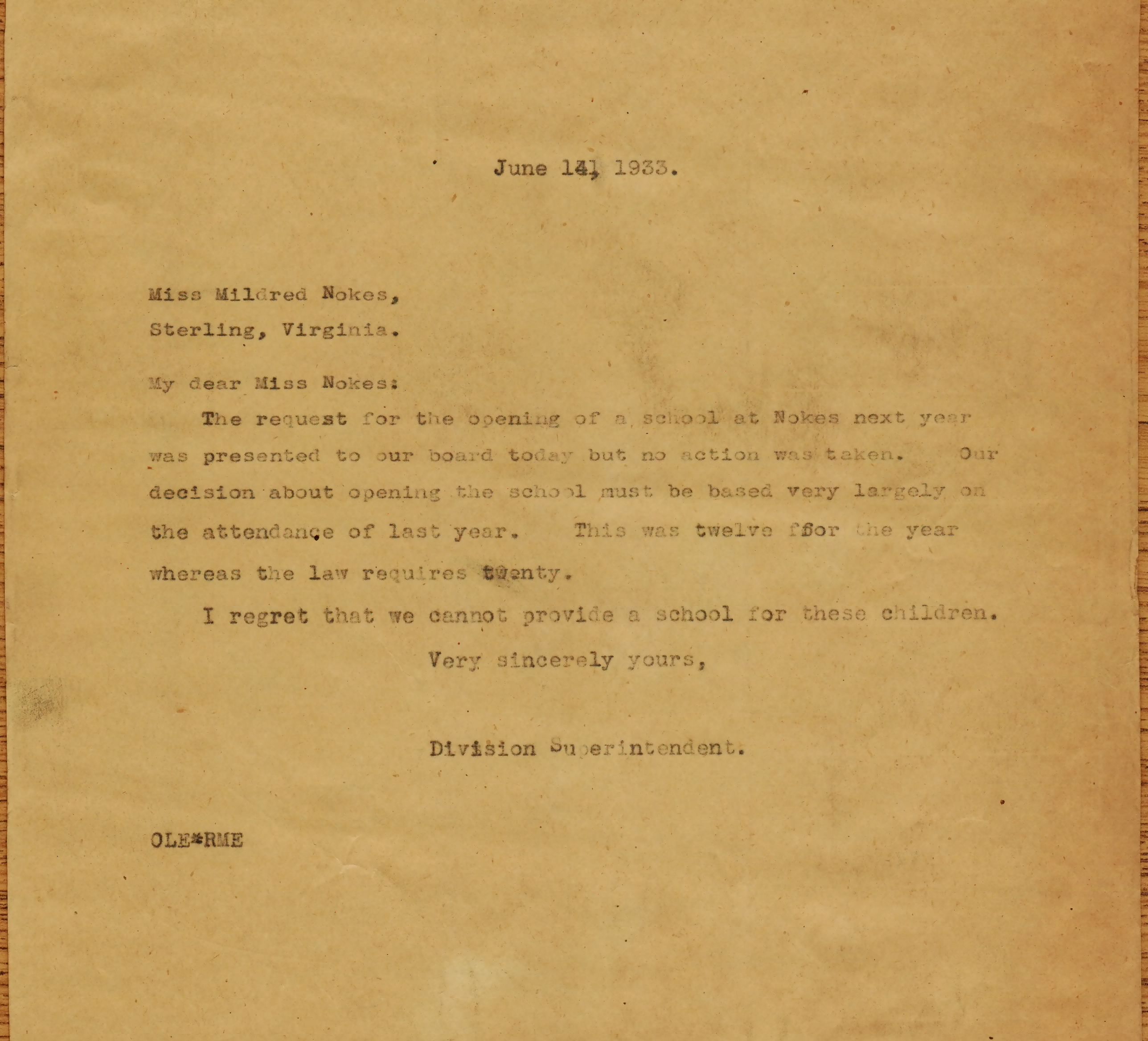 Opening and Closing:
The opening date is unknown. The earliest records in the archives date back to 1917, but we are certain it was open prior to then. Closed in 1953. Students then studied in Fairfax County at the Floris School, which is in Herndon.
Physical and Map Location
Sterling School District, Later Broad Run School District.
Contemporary Street address is 46531 Harry Byrd Hwy, Sterling, VA 20164.
Petitions:
May 15, 1933. Williams Edds and Mildred Nokes wrote to O.L. Emerick to open the Nokes school for the 1933/34 academic year. The petition was signed by eight parents and friends of the school. June 14, 1933, Superintendent O.L. Emerick wrote to Ms. Mildred Nokes of Sterling acknowledging her request; but the School Board took no action because the attendance of the prior year had been 12 and a legal school had to have an attendance of twenty. See EWP Archives: Box 2: Colored Petitions. Held at EWS Research Center at Douglass HS Building in Leesburg.)
See also under Instructors. Petition for Clarence Leopold Murray, 18 June, 1947.
Transportation
Letter from Emerick to Nannie Coles said that that on 14 May 1953 the School Board voted to closed the school after that year and that a bus would be provided "to take the children to the new school near Herndon," which is in Fairfax County. See EWP 5.8 , 14 May 1953.
History
Opening not known yet. The earliest records in the files date from 1917, but likely opened prior to that. There is history on the internet associated with the Black History Committee (Friends of the Balch Library) with a great deal of information about the Nokes family and some information about the school; but the school dates sometimes conflict with the records in the archives. However, the history, which is part of a study of Black families in Loudoun, is absolutely worth studying. An additional history on the school has been provided by Deborah Lee The children attended school in a little shanty until it burned down in the 1920s. Parents had to donate land to the school board before they would build a new school. The children did without schooling during the two years it took to raise $125 for one acre."
According to EWP 6.6 School Cards, the annual enrollment was:
1917/18 18 (this is the earliest date for which we have records in the archives).
1918/19 17
1919/20 22
1920/21 30
1921/22 24
1922/23 19
1923/24 0 Closed. The official records don't offer an explanation, so a study is needed to see if this reflects the history offered by Deborah Lee. (see history section)
1924/25 22
1925/26 23
1926/27 12
1927/28 18
1928/29 17
1929/30 20
1930/42 0 This is an example of how historical records can be confusing. According to student cards, the school was closed those years, but we also have an indication that Elezbeth Pegram was the teacher for 1931-33 and Mrs. Theodora Ross was serving in 1930-31.
1942/43 23
1943/44 21
1944/45 25
1945/46 24
1946/47 20
1947/48 15
1948/49 18
1949/50 27
1950/51 26
1951/52 16
1952/53 16
1953/54 Closed and hauled to Fairfax County, Floris School
Instructors:
1917/18: Cornelius Erving of Sterling Virginia. No experience.
1947/48 – 1950/51: Nannie C. Coles.
1942/43 – 1945/46: Clarence Leopold Murray. The Parent Teacher's League in Sterling was so impressed that on 18 June 1947, they petitioned O.L. Emerick, Superintendent, to keep him; however Nannie C. Coles was already contracted, according to Emerick, so it was impossible to honor the request. Nokes Petition for Murray 1945. Mr. Murray was born 23 Dec 1885 and died 2 May 1948 in Loudoun County. His death certificate listed his occupation as "Professor" and that he was the son of fellow instructor Bushrod Murray. Sources: Term Reports and Colored Petition Box, EWP Archives., Death Certificate. Lists of Teachers, 1892-1975. Richmond, Virginia, USA: Virginia Department of Public Instruction/Education (Library of Virginia).
1943/44 – In addition, to Murray, Leona Brunswick instructed. She was born Sept 26, 1919 and educated at Storer High School (class of 1939) and received a BA from Storer College in 1942. Her hometown was Bolivar, West Virginia. Source: Teacher Reports, EWP Archives.
1939/40 – 1940-41. N/A
1933/34. School was closed due to poor attendance.
1932/33 Elizabeth Pegram. Source: Term Reports, EWP Archives
1931/32 Elizabeth Pegram. Source: Term Reports, EWP Archives.
1929/30-1930/31 Mrs. Theodora Ross was elected by School Board. Source: Loudoun Times Mirror Staff. (1930, June 12). School Board Holds Its Regular Session. Loudoun Times Mirror, p. 1.
1928/29 Annie Cupid. Source: Term Reports, EWP Archives
1927/28 Mrs. R. G. Fletcher. Source: Term Reports, EWP Archives
1926/27 Mrs. Cornelia Bailey (see also 1918/1919)
1925/26 Miss A. Anne Arnold Source: Term Reports, EWP Archives
1924/25 Miss Julia Boasman Source: Term Reports, EWP Archives
1918/19 Mrs. Cornelia Bailey Born 12/27/1893. Education, secondary and normal school. Source (Teachers Record, EWP Archives)
Insurance and Physical Description
Construction and Insurance records offer no details on the physical dimensions, but imply it was a typical one-room school. 1940 Blue Book, which contains many photos of old schools, does not mention the school at all.