Sunny Ridge White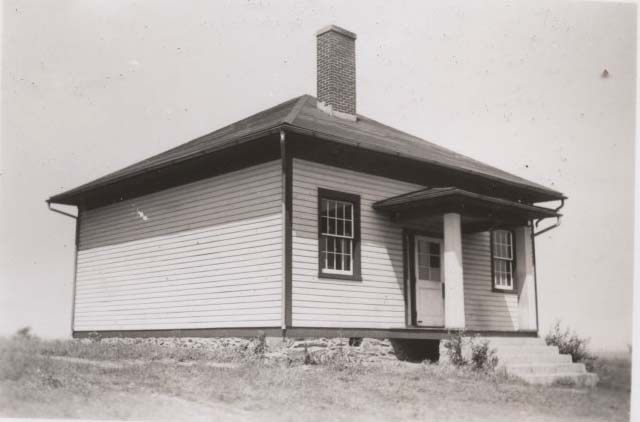 Opening an Closing
Ownership of the property by LCPS and construction went back to 1918. The property was initially transferred to school trustees in 1918 and then sold by LCPS to Metta Watts and her husband on May 11, 1945. The school was closed in 1944/45 and the students were transferred to Round Hill.
Physical and Map Location
Petitions
Transportation
History
Access Road Controversy: In 1949, Mrs. Metta Watts Smith (1928 – 1996) wrote to O.L. Emerick, noting that she had purchased the abandoned school several years prior, but didn't have an access road; but others were crossing her property without permission, which prevented her from upgrading the structure. Emerick indicated he could not help, he had no authority to help her. (location: Colored Petition Box, Item 2.5.a in the Edwin Washington Catalog. Note: Although the school was a white school, Mrs. Watts Smith was Black.

The exchange between Smith and Emerick revealed that the property was bordered by the Wilson Gap Road, which is an element of Round Hill. From Wikipedia, the free encyclopedia. Wilson Gap, originally known as Gregory's Gap, is a wind gap in the Blue Ridge Mountain, located on the border of Loudoun County, Virginia and Jefferson County, West Virginia. The Appalachian Trail crosses the gap. The 1,444 feet (440 m) gap once served as a thoroughfare between Round Hill, the former terminus of the Washington and Old Dominion Railroad in western Loudoun, and the resort communities of Shannondale and Mountain Mission in Jefferson County via the Wilson Gap Road. The resorts fell victim to the Great Depression and the upper reaches of Wilson Gap Road became impassable to vehicular traffic by the outbreak of World War II. Though no longer maintained as a public road, the old road bed can still be found by the discerning hiker. Major resource for citation above was Eugene Scheel. Loudoun Discovered: Communities, Corners & Crossroads Vol. 4, Friends of the Thomas Balch Library, Leesburg, Va. 2002, p. 77.
Deed History. These records are in the Archives of the Circuit Court of Loudoun County.

Deed Book 13E p. 204 Smith to Johnson (1950)
Deed Book 11Z p. 275 School Board to Watts Smith (1945).
Deed Book 12C p. 172 School Board to Watts Smith (1945).
Deed Book 9U p. 356/358 Sunny Ridge School to School Board (1924)
Deed Book, 9e, pg. 390 Sold to Trustees for Sunny Ridge (1918)
Instructors
1924/25: Miss Bertha M Waddell of Bluemont. She was born in 1903 and had attended public schools and Harrisonburg. She instructed grades 1-7 on a local permit for $60 a month. Had one year of experience.
1926/27. Miss Nona F. White of Benhanis. Born Aug 1, 1906. Attended public schools and East Radford SS. Taught grades 1-7 for $65 a month on a provisional first grade permit. Had one year of experience.
Insurance and Physical Description
Ownership of the property by LCPS went back to 1918 a one story, detached, frame building with composition roof, on stone foundation. The structure contained only one room and was heated by a stove, the flue to which was brick of standard construction. An addition took place in 1936 for $1,975. Insurance agents were impressed in 1940, feeling the building of a much better type construction than the other one room frame schools. It was approximately 31.5 x 33.5; and in 1940 was considered to be in excellent condition. The insurance value was $1500.