Foxcroft White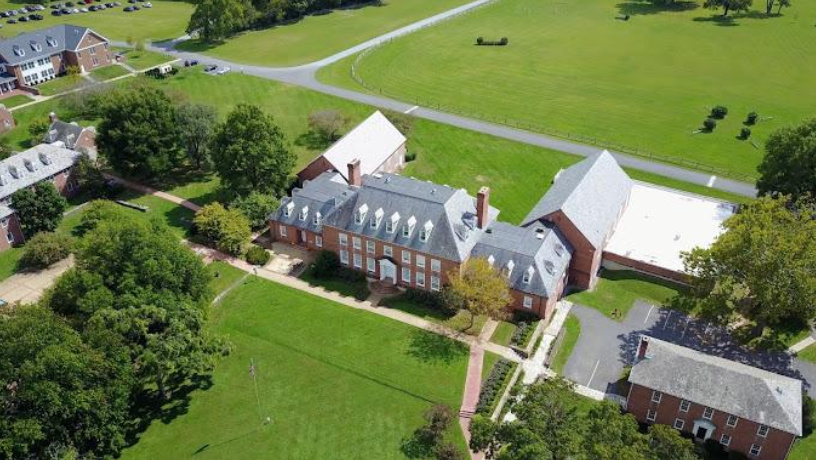 Opening and Closing
Founded in 1914 by Charlotte Haxall Noland. Still in operation.
See vertical files, Edwin Washington Archives, Douglass HS Building, Leesburg.
Physical and Map Location
22407 Foxhound Ln, Middleburg, VA 20117
Petitions
Transportation
History
See vertical files of Edwin Washington Society in the Douglass HS Building, Leesburg. Contains photos and interesting background on the Women's Land Army
Foxcroft is an important private school for girls in Loudoun and thanks to efforts of the originating owner Miss Charlotte Noland, the school often supported Blacks, and also did general support for social services for both whites and Blacks.
The files we have are in 6.3.4 Foxcroft Social Service and were largely provided by the archives staff at Foxcroft, for which we are very grateful. Important highlights are as follows -- see files for more details. use of the word "colored" was the term used in the reports. We fully expect to list more files on this page at a later date.
Sept 1937 - October, 1937: 16 visits to colored homes and 3 visit to colored schools. One colored man was taken to Winchester Hospital for removal of object from forehead.
Sept 15, 1937 to May 1, 1938: As with other reports, many health statistics. Also, in a letter from February, 1938, it was noted that Foxcroft provided home nursing classes at Unison (to have been completed by March), with more classes to be offered in Aldie and Middleburg schools. One white patient was given basal metabolism test and other children were treated for infections and eye prescription needs. Furnished a doctor for a colored child ill with deep bronchitis and enlarged cervical glands. Began inspections at colored schools. Went to Richmond to retrieve a crippled child at the Crippled Children's Hospital 18 month's earlier when aged three. Found work for several men, and arranged a first aid class at Aldie High School, as well as diphtheria classes.
Jan 1 - Feb, 1939: Foxcroft Social Service. Monthly Report for Jan 1 to Feb 1, 1939. Delivered hot lunches to all schools in District, except for Middleburg and St. Louis. Middleburg was taken care of otherwise and Saint Louis operated on a half day schedule. The Colored School dentist is now at work in our District. We have promised to give $5 to any school who will come within that amount of having 100% corrections cone. The Dentist has completed work in three of the six colored school in Mercer and two of those were 100%. The other was 67%. Took one colored child age three, totally blind, to the University Hospital for removal of cataracts. She ahs returned and has to go back in Spring for further operation. Took on colored man to same hospital for examination and diagnosis. Assisted with hospitalization of one colored woman having phenomena and streptococcus infection.
May-June 1939: Foxcroft Social Service. Monthly Report for May 1 to June 1, 1939. Leesburg Garden Club offered prizes for both colored and white schools. First prize was $10 and second prize was $5. These were for improvement to the school grounds. Willisville Colored was first. Unison and Middleburg Colored both won honorable mention. Assisted pre-school clinics were: Dr. Spitzer and Dr. Saffer and Dr. Edmead for examination and vaccinations at Aldie, unison, Middleburg and Middleburg Colored. Two colored men, having tuberculosis were sent to Piedmont sanitorium that month. In addition, the Saint Louis Colored School was awarded $10 as a health prize. 1942 February 10. Receipt for donations by Foxcroft to schools from Belnap hardware and Mfg of Louisville, Ky.
July 4, 1942. Victory Garden Parade poster for Middleburg School Grounds. Children participated from White (Middleburg, Unison and Aldie) as well as Black schools (Willisville, St. Louis and Grant). Garden for Victory Poster also in collection. These are scans of original files from Middleburg Archives.
1942 (About). Rare colored photo of Mrs. Charlotte's Land Army, very likely children from Willisville.
1942 (About). Photo of Mr. Charlotte Noland giving direction. 1942 (About). Probably, July 4. Set of photo of white and Black children at the proceeding at the Middleburg white school.
1942, July 4th. Program 1942, July 4th Drill Record. 32 of 34 children from Saint Louis participation and worked 224 hours. Two children were sick. 22 of 36 children from Willisville were in the drill and worked 786 hours. 30 of 35 children from Grant participated, of which 17 worked for 318 hours. 2,241 hours of work by 153 children from white and colored schools raised vegetables to can 2,200 quarts for hot soup the following winter. Grant and Unison tied for first prize. unison received a Banner and Grant received a Defense Bond. Middleburg and Willisville tied for second prize.
1942, July 4th Promotions and Prizes. These were listed for unison, Aldie and Middleburg. 1942, August 27. Tools left in various schools, including Willisville and Unison. A report also shows vegetables planted by Willisville and list of tools. 17 Bushels of Tomatoes, 263 ears of corn, 2 bushels of Cabbage, 3 bushels of potatoes, 6 bunches of carrots, 4 bunches of beets, 2 bushels of strong beans and 2.5 bushels of black eye peas. Probably grown on land owned by Mrs. Howard White Undated but likely
1942: Willisville School. Land loaded by Mrs. Howard White. At the time, Anna Gaskins was the instructor. Patrons were Virginia Brooks, Virginia Talbot and Maria Smith. Edgar Gaskins was Sergeant. Dorothy Reid was Secretary and Aubrey Smith was manager of Tools. Corporals were (Boys) Morgan Hampton and Walter Thomas. (Girls) Edith Smith, Anna Brooks, Daisy Warner and Dorothy Reid. Note: We should compare photo from collection to see if the list of children can be identified. Another list provided even more names of participants and those who dropped out. Another list provided list of clothing provided each child.
February 3, 1945. Frederick post, Page 2. Miss Charlotte Noland to erect shop at Middleburg school for use of teachers. On Feb 2nd, School Board authorized new building for colored children of Saint Louis and Middleburg. Requested PTA to appoint committee to select site.
September 28, 1945. The Education Association of Loudoun met at Foxcroft at 6pm. Source. EWP Archives 8.6 Loudoun County School, Calendar 1945-46 White Schools.
Instructors
Insurance and Physical Description