Lincoln Colored
Photographs
a) A contemporary photograph as well as earlier school photos exist on the Lincoln Preservation Foundation Page.
b) Photographs.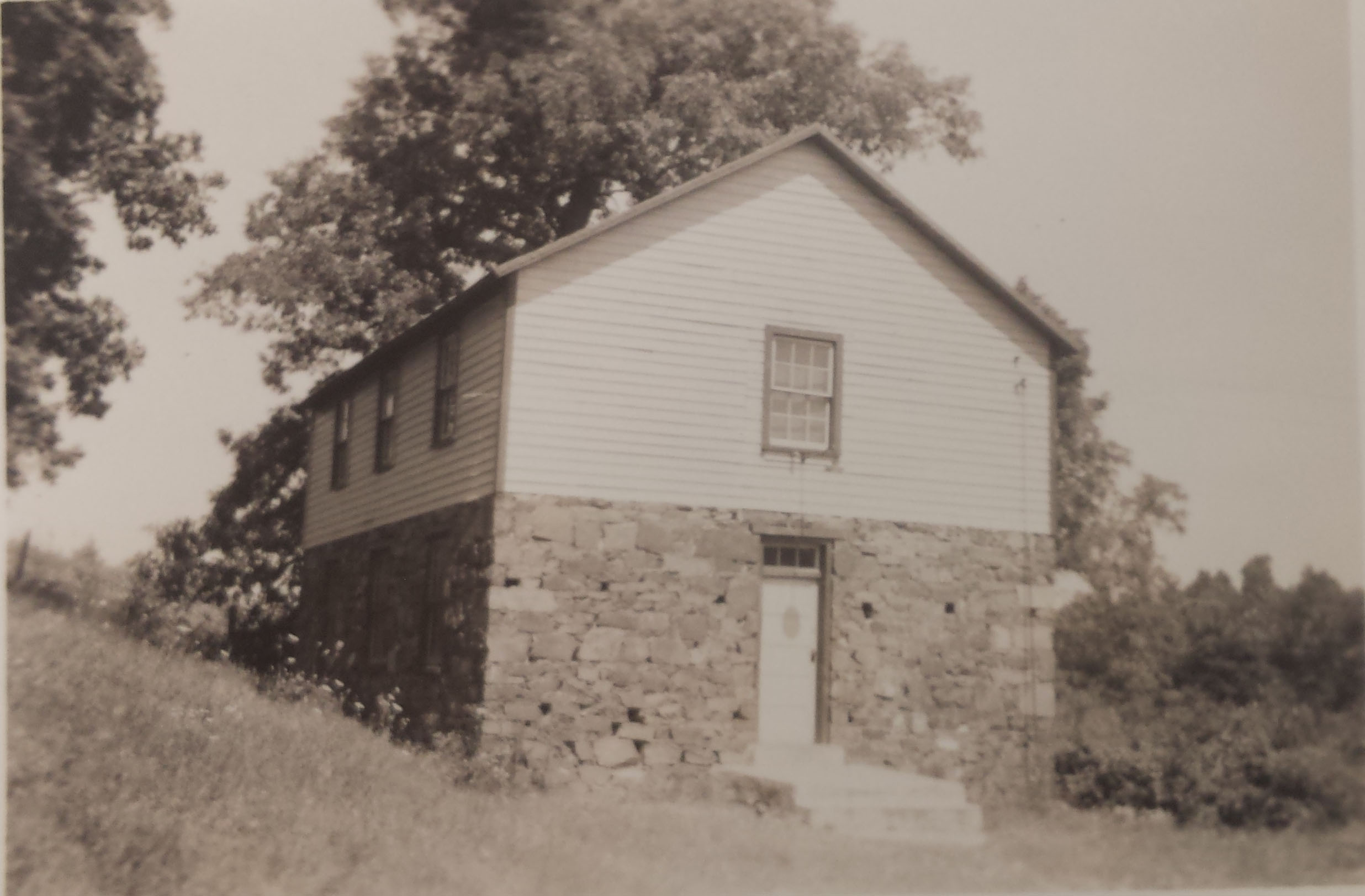 Photo by Thos E. Sims, Jr. Source: Insurance Analysis and Permanent Record – Property of Loudoun County School Board: Garrett Insurance Company (Fireman's Fund Insurance Company), Leesburg, Virginia. October 1940. EWP Archives, Box 11.
Opening and Closing
The construction date was 1872. Closed 1947/48 academic year and students moved to Carver. See EWP: 6.6 Lincoln Colored. See also vertical file in Edwin Washington Archives, Douglass HS building, Leesburg.
Physical and Map Location
37706 Cooksville Rd, Purcellville, VA 20132 (School is in the village of Lincoln, now a suburb of Purcellville)
In 1938/39, the number designation for Lincoln Colored was #28. Source 1.7 1939 Socio Econ Study.
During the Segregated era, the school was in the Mt. Gilead School District
Petitions
Transportation
History
Written with much assistance from Carol Morris Dukes, founder and first president of the Lincoln Preservation Foundation.
Includes discussion of Quaker influence and a list of instructors. See also the nomination of the Goose Creek Historic District for federal recognition on the National Register of historic places. History of the Lincoln Colored School.
instructors
1865-1868 (exact dates uncertain) Miss Liza Janney, Mr. Samuel Janney and Mr. Rodney Davis.
1868-1871: Caroline Thomas (after Leesburg) 1868-1871.
1871 – 1893: No official records found.
1893/1894: Ms. Laurenda Duvall of Lincoln was a "colored" instructor for Lincoln and operated on a 3rd grade certificate. Mr. Chas B. Williams of Roselyn, VA also was a colored instructor and operated on a 2nd grade certificate.
1894/95: Mr/ G.B. (or CB) Williams of Alleghany Springs, VA instructed on a 1st grade certificate and Miss Laurenda Duvall of Lincoln continued to instruct on 3rd grade certificate.
1895/96: Mr. W.S. Morgan of Richmond, Virginia instructed on a 1st grade certificate. Miss Luanna Tate of Silcott Springs instructed on a 3rd grade permit and Ms Laurinda Duvall from Lincoln instructed on a 3rd grade permit.
1896/97: Mr. W.S. Morgan, now identified from Lincoln, was still the instructor:
1898-1909: Files Missing
1916/17: No information
1917/18: Ms. Mattie McQuay. Had a seven-month contract on a 3rd grade certificate issued in 1917. Was paid $30 a month.
1930/31 Academic Year. Curtis Ewing was elected instructor by the School Board on June 10th, 1930. (Times Mirror Staff, 1930). We also know that Mr. Ewing was the instructor at the Conklin Colored School for the 1923/24 academic year at a rate of $40 a month. He had a local permit for all topics and operated on a six-month contract. He was also supposed to be the instructor for the 1924/25 academic year, but the school was closed, due to lack of attendance. See Conklin Study. Ewing was also supposed to be from Leesburg. I didn't find one there; but the 1920 Census for Broad Run showed an 18 year old farm laborer of this name. He would have been about 21 or 22 in 1923, so this is possible; but I've not found another record.
School year 1923-24 for Curtis Ewing. Address: Leesburg. Grade of Certification: Local permit. When issued or renewed: 1923. When expired: 1924 Years Experience: 1. Where Educated: public school (Kroiz, 2013)
Ewing remained the instructor 1931-1934/35. We also know that in 1934, Lincoln Colored was very crowded, so the School Board decided on November 6th that the Purcellville primary teacher was to supply half a day at Lincoln (Washington Post Staff, 1934).
1935/36. Binns Walker was instructor then in 1940 was a chauffeur with a 4 year degree.
1936/37 through 1941/42, Curtis Ewing was the instructor.
1946/47. Curtis Ewing returned to Lincoln, having instructed in Lovettsville in the 1942/43 - 46 academic years. See (Washington Post Staff, 1946), also the Loudoun Times Mirror (Times-Mirror Staff, 1942).
Insurance and Physical Descriptions
2 room, frame construction built at cost of $1,000. Source: Report of Survey Committee on Long Range Planning for Loudoun County, Jan 1940. Location: EWP Archives 2.2 County School Board, 1918-1952.
1927: Insured by LCPS for $550. Insurance Record. Purcellville: EWP Archives Box 11.
Students
One project will be to list all of the students, as was done for Conklin. See an interview with Mr. Mackley Lucas. (1924-2009)
Additional Photographs
1878 showing the design for the first road to the Lincoln Colored School. Map was found in road records in the Loudoun County Circuit Court Archives.
Side deck in 2016. Color photos by Larry Roeder. The school is now a private residence.