Mount Hope White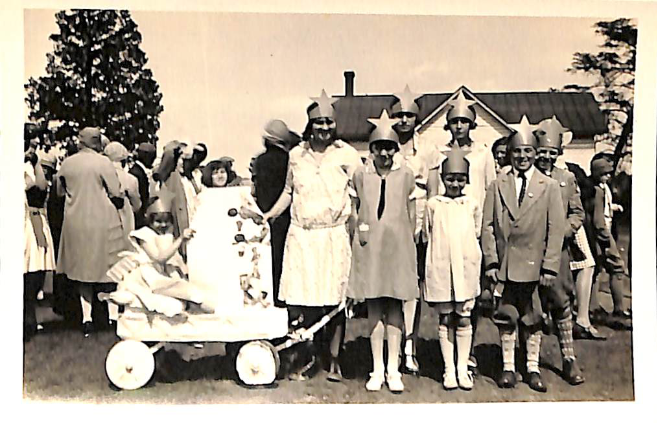 EWP 1929 Mt Hope School Float
Opening and Closing
Perhaps 1877. Owned by LCPS in 1924- Closed in 1934/35. Students were then hauled to Ashburn
Physical and Map Location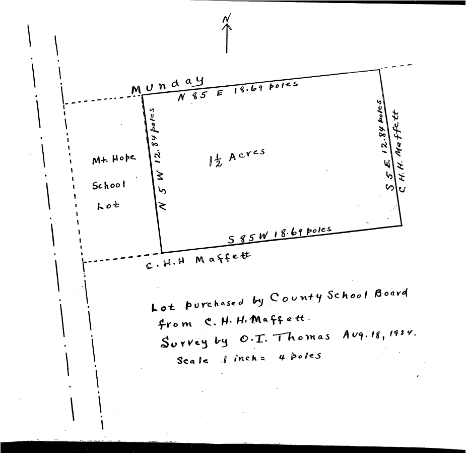 EWP 3-4 Yr 1924 Mt Hope Land Survey
A schoolhouse named Mount Hope was created in 1877. Though it was never owned by the Church of the same name, Mount Hope Church need use its facilities long ago. We also have records of a building purchased in 1924. In addition, we have records of teachers instructing as early as 1918 and hints from oral tradition of teachers before then. Our belief is that this was all about the same building, owned by a private entity or the local school board, then purchased by LCPS in 1924. The 1924 survey indicated that the lot was purchased from Maffett that year. See the purchase of 1.5 Acres by County School Board from C.H.H. Maffett. Survey by O.I. Thomas, August 18, 1924. See also the survey plat above.
The 1920s during which LCPS purchased the school ushered in major upheavals in how public schools were managed. Prior to 1922, Superintendents didn't fully manage an entire county system. Instead, hiring and firing of teachers, ownership, and leasing of school properties, etc. was done at the local school district level, in this case, the Broad Run School District. That created a major management and administrative burden for the State Superintendent for Public Instruction, Harris Hart as well as county superintendents (known as Division Superintendents).
Hart caused the county unit law to take effect in September 1922, which placed full local authority in a unified county school board and Superintendent. Local school boards were abolished in Loudoun on 1 September 1922. Instead, a representative from each district sat on a common board. This new system gave real power to the local Superintendent and reduced the prior number of administrative units across the state from about 700 to about 150, County superintendents were also given full authority over staff, equipment, and resources, only reporting to the county school board and the state. Although we don't have documents specifically linking the purchase of the building to the new law, the logic is inescapable.
Mount Hope Church is at 42507 Mount Hope Rd, Ashburn, VA 20148.
Petitions
None found.
Transportation
1934 (Spring). Boyer Phillips drove students on the area's first bus to Ashburn School.
History
Paper Term Reports are in Edwin Washington Archives. Mount Hope Elementary White, Broad Run District, 1924/25-1933/34 in EWP 6.3.2 Box 4.
1928. May 2nd. The school participated in a Health Fair. Under the direction of Ms. Hann Turman (Supervisor for Rural Schools), this was a gala day for pupils from the one and two room schools of the Broad Run District. The day marked the culmination of the health and physical education activities of these schools for the year when the children, teachers, parents and friedns met at Mt. Hope school. Children participated in a track and field meet interspersed with other features done in conformity with rules set by the Extension Division of the University of Virginia. See section on health for details.
Walter Poland bought the school house and held dances there in the 1930's.
Building burned down in the 1950's.
Instructors
Some of names are derived from oral history and memories developed by Gene Scheel for his Loudoun Discovered series. Some employment information was gleaned from EWP: 4.5 White Teacher Cards and 4.3 Teachers Contracted With. It may be the teachers missing from the cards or ledger were instructing before 1917. Some older records don't make it clear if the system was listing where a teacher instructed the Mount Hope school or where they lived, Waxpool. We used oral tradition to make an educated guess in those situations.
UNK Year at Mount Hope: Laura Hunt (Cross) (Oral tradition) Born 12 March, 1909. Graduated from Ashborn HS. Attended Fredericksburg Teacher's College. EWP 4.5 White Teacher Cards indicate she was indeed a teacher, but don't show her at Mount Hope.
UNK at Mount Hope. Nona L. Parks (oral tradition) (no records in the White Teacher Cards). Ms. Parks was listed in a roster of certified teachers as instructing for the academic year of 1910/11. With her was Miss Annie Fouche.
1899/1900: Lelie V. Ankers, Florence C. Bussard and Maude L. Silcott from Waxpool were listed as teachers.
1900/1901: Delia V. Ankers, Elinor Hutchison, Blanche Wilson were listed as teachers.
1903/05: Lelia V. Ankers my have been an instructor at the school and Miss Hattie E. Hunt..
1905/06: Lelia V. Ankers may have been an instructor at the school this year, as well as Miss Effie D. Hunter.
1907/08: Miss Campbell (oral tradition) (no records in the White Teacher Cards). We believe this was Betty Campbell, who was listed as a certified teachers in 1907/08, along with L.O. Sowers.
1908/11: Julia Newman (Oral tradition)(no records in the White Teacher Cards). Ms. Newman was listed in a roster of certified teacher.. Nona L. Parks might also have been an instructor there in 1910/11.
1911/12: May Barrow (oral tradition) (no records in the White Teacher Cards). We believe this was May Barron who listed as a certified teacher in Waxpool.
1912/14: Lillian Moran. She was not listed in the oral tradition roster; but was found in a list of certified teachers at Waxpool for the academic years of 1912/14.
1913/14: Mary C. Frame (oral tradition) (no records in the White Teacher Cards), but in 1913/14 as assigned to Waxpool. Her certificate was issud 5/15/1914.
1914/16: Virginia Hutchison (oral tradition)(no records in the White Teacher Cards). A list of teacher certificates indicates she was assigned to Waxpool for the 1914/15 academic year. Her certificate was issued 8/19/1913,
1918/19: Susie Bitzer (Walker) EWP: 4.5 White teacher cards and EWP: 4.3 Teachers Contracted With both listed Ms Bitzer as with Waxpool; but after studying a history developed by Eugene Scheel, we believe the clerk accidently identified the community of Waxpool instead of Mount Hope as the school house name. A separate list of certificates makes the distinction.
1920/22: Eva Hunt Cross. Born 5 Feb 1878. Began her career at Mount Hope with 12 years experience. Home address was listed as Waxpool. Education was from public schools.
1922/29: Harry C. Daniel (Not from oral tradition list) . Lived in Leesburg. 4 years experience. Graduated from Lincoln High School. Educateed at Harrisonburg summer school. . Born 1897.
1929/30: J. Herman Summers. (Not from oral tradition list) Educated at William and Mary (1900, 1903, 1912-1913). Held an AB degree. Born 17 July 1882.
1930/31: Lillian Moran (Bell) (The oral tradition list show her as Ball; but her actual name was Bell) Not listed in Teacher Cards, but was listed in Superintendent Records of Teacher certificates.
1931/34: Miss Estelle Scott (not in oral tradition list) From Marshall, Va. One year experience. Educated at Averett College Not listed in Teacher Cards.
Insurance and Physical Description
2 roomer, though for most of its life, only one room was used.
1928: EWP 11: it appears that the Mount Hope School was insured for $650.
1930: It appears that the school was insured for $650, their value devided between three agents.
1934: Insured, but to what amount is not clear.
Health Fair of 1928
See also history section.
Girls Events:
Boy's Events: 75 yard dash, Standing Broad Jump, Running High Jump, Baseball Accuracy Throw, Baseball Distance Throw, Chinning the Bar.
See EWP: 7.3.1 Yr 1928 Health Fair report below for details on awards and medals, as well as information on other schools.